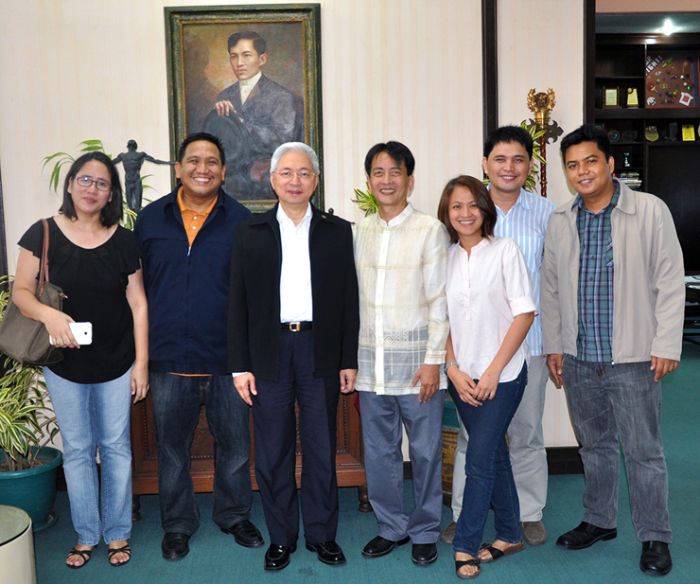 Tan makes affirmation as UPD Chancellor
(FEB. 28)—Dr. Michael Lim Tan, dean of the College of Social Sciences and Philosophy (CSSP), affirmed his position as the tenth chancellor of UP Diliman before UP President Alfredo E. Pascual, and witnessed by the vice presidents of the UP System and some UPD officials at 5 p.m, Feb. 27 at Quezon Hall.
Rather than the traditional oath-taking, Tan took an affirmation, following the tenets of the Quakers, of which he is a member. "Quaker kasi ako at bawal sa amin ang oath-taking. So insted of saying 'nanunumpa' we say 'taos-pusong pinagtitibay.' And we don't close with 'Siya nawa Diyos.' Ang dahilan dito is we believe that if we want to promise we will do something, we shouldn't have to invoke the name of God. Gawin na lang," Tan emailed
According to the Quaker Information Center, Quakers are members of the Religious Society of Friends, a faith that emerged as a new Christian denomination in England during a period of religious turmoil in the mid-1600s and is practiced today in a variety of forms around the world. To members of this religion, the words "Quaker" and "Friend" mean the same thing. (http://www.quakerinfo.org/index)
Our constitution actually allows this affirmation, instead of oath-taking. Nasa Article 7, in relation to swearing in a new president. I asked our legal office if this could apply for the chancellorship and they said it was OK," he said.
A professor of Anthropology, Tan was appointed to his new post by the UP Board of Regents in a meeting on Feb. 27. He serves a 3-year term starting Mar. 1 to Feb. 28, 2017.
UPDate asked Tan the priorities for his term. Through an email, he said "My program will align with the UP System's strategic plan, emphasizing operational efficiency and academic excellence. These are givens, and must continue to get top priority because we are the national university. I also intend to continue my predecessor's programs, particularly in relation to the creation of nurturing and enabling spaces.
In addition, I have a 12-point 'value-added' program around a vision of Pride of Place, Boldness of Vision. I will be working with my team to finalize this 12-point program but I can share three of the priorities:
First will be what I am tentatively calling 'wellness infrastructure,' improving our faculty, students and staff's quality of life, especially around shelter, transport, health and nutrition.
Second will be security. We need to feel safe again in UPD and this will come through a package of interventions, not just adding guards or CCTVs but also by creating more spaces for people to congregate any time of the day, any day of the week.
Third will be a UPD Social Observatory, using social research to guide UPD policies. This Observatory will be transdisciplinary in its approaches, using quantitative surveys, as well as the many forms of qualitative research. The research will be oriented toward solving practical problems."
Tan is also an Affiliate Faculty at the UPD College of Science and a Clinical Professor at the UP Manila College of Medicine. He has a PhD in Anthropology, obtained in 1996 from the Medical Anthropology Unit of the Faculty of Social Sciences of the University of Amsterdam, The Netherlands. He earned an MA in Anthropology in 1982 from the Texas A&M University in the United States and and a Doctor of Veterinary Medicine from UPD in 1977.
Prior to his recent post, Tan was on his second term as CSSP dean, having been reappointed in July 2013.
Also at the event was Tan's son Joaquin.—Chi A. Ibay, images by Jefferson Villacruz