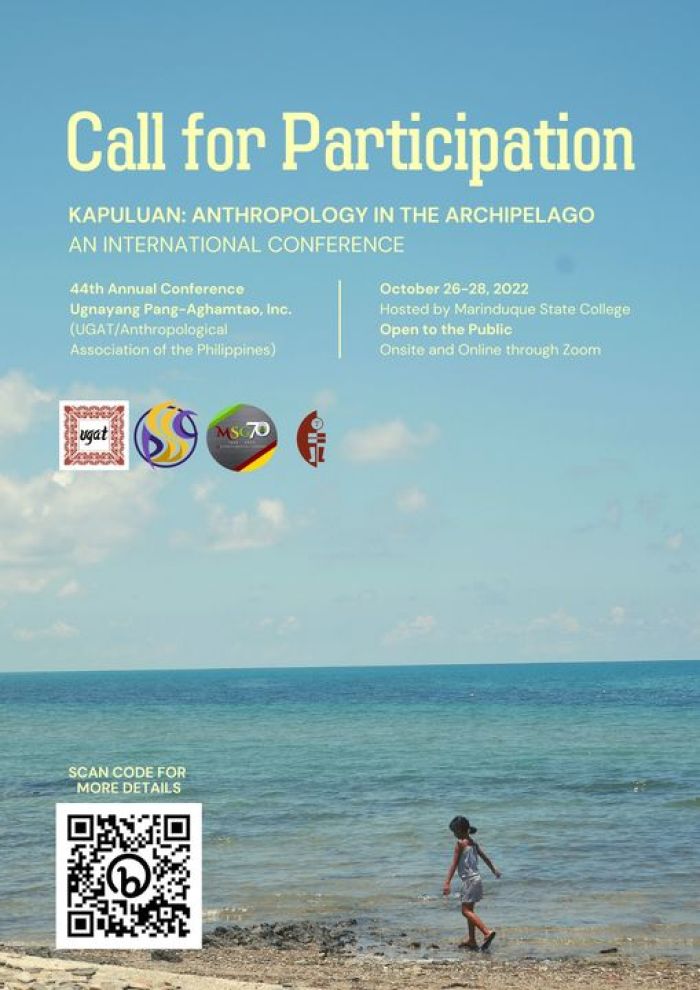 Call for Participation to the 44th UGAT!
Call for Participation to the 44th UGAT!
The UGAT cordially invites you to its 44th Annual Conference at the Marinduque State College in Boac, Marinduque, the Philippines on 26-28 October 2022.
With the theme 'Kapuluan: Anthropology in the Archipelago,' the Conference intends to be a venue for a close examination of the historical, social, cultural, economic, and geographic factors that contribute to the unique 'islandness' of the Philippines and many island-nations across the globe. Through Anthropology's four fields – biological anthropology, linguistic anthropology, archaeology, and sociocultural anthropology, the Conference explores the material interconnectedness of peoples, islands, and the sea. It examines the complex, dynamic, and historical processes of cultural exchange, migration, trade, and globalization between and among the Philippine islands and its neighbors spanning Southeast Asia and the Pacific, and how these processes condition and contour sociocultural processes and identity formation in distinctly relevant ways. The Conference also seeks to explore the emerging digital infrastructures and technologies that bridge us to the Filipino diaspora in Asia and the rest of the world, as well as filmic and popular cultural representations of 'islandness.' While islands have played a significant role in early anthropological research, the ways in which they were examined were largely through a colonial and terracentric gaze. In contrast, this Conference intends to foster a meaningful and critical conversation about island-nations in flux through a reflexive and situated practice of anthropology; it is therefore a serious inquiry regarding the archipelago from and by the islanders themselves. In addressing the theme, the conference offers one keynote address, three distinguished lectures, 138 paper presentations, and six short films.
The UGAT conference aims to provide an arena for reflexive and critical discussions and to foster meaningful and engaging discussions among practitioners of anthropology – whether in academe, development and cultural work, media, art, advocacy, policy and governance, community work, or other forms of social action.
Skilty C. Labastilla
Dr. Randy T. Nobleza
Dr. Alfred F. Pawlik
Noreen H. Sapalo
To confirm your participation in the Conference, please upload a copy of your proof of payment and vaccination card via
https://bit.ly/UGATRegistration
. Please access all conference-related documents (e.g., Travel and Accommodation, Conference Program, Book of Abstracts, etc.) here:
https://bit.ly/UGAT2022Docs
. For queries, please email the secretariat at ugat.conference@gmail.com. Conference updates are available on the conference page and the UGAT Facebook page.
Kindly share this Call for Participation with your contacts and networks.
See you at the Conference!