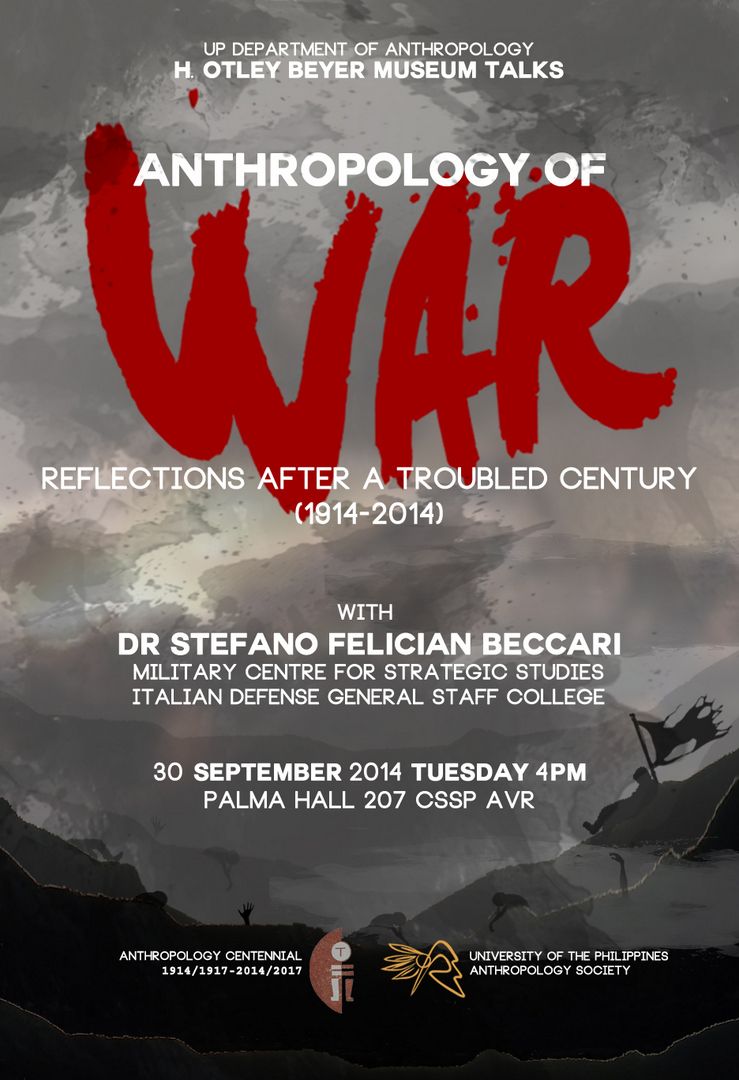 Anthropology of War: Reflections after a troubled century (1914-2014)
Anthropology of War: Reflections after a troubled century (1914-2014) with Dr. Stefano Felician Beccari from the

Military Centre for Strategic Studies of the Italian Defence General Staff 
September 30 2014 Tuesday 4 to 6 pm        Palma Hall 207 CSSP AVR

Stefano Felician Beccari, 
born in Trieste (1983), is a researcher of CEMISS, the Military Centre for Strategic Studies of the Italian Defence General Staff (Rome), where he is the director of the Asia-Pacific section. 
Previously he worked in the Italian Senate, both in the Defence and the European Affairs committees (2010). 
He holds a PhD in Geopolitics and Geostrategy and
 is the youngest IASD 
(Italian Defence Higher Studies Institute)
 student since IASD establishment in 1949. 
He holds a Master of Philosophy ("International Security Advanced Studies", University of Perugia, 2009) and both a B.A. and LL.M. (
cum laude
) in Law of the University of Trieste (respectively 2004 and 2006). 
Since 2005 he has published several articles (both in Italian and in English) covering the field of Strategic Studies, Geopolitics and International Relations. His focus is mainly oriented on Asia-Pacific political and security affairs and unconventional warfare.