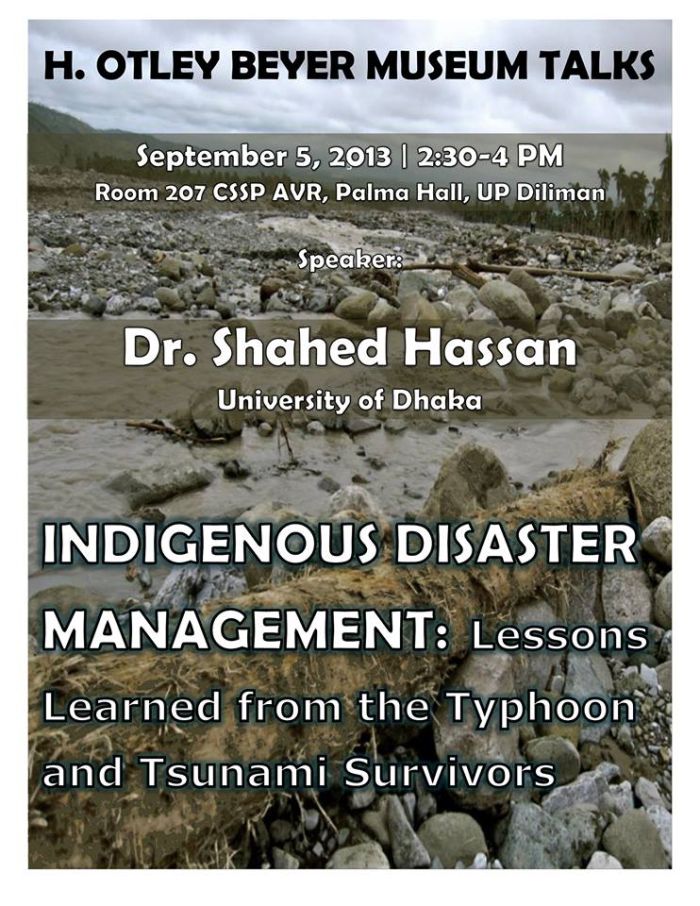 Indigenous Disaster Management: Lessons Learned from the Typhoon and Tsunami Survivors
The H.Otley Beyer Museum talk for September was entitled 'Indigenous Disaster Management: Lessons Learned from the Typhoon and Tsunami Survivors'. This talk was held on the 5th of September, at Room 207/CSSP AVR in Palma Hall. It was attended by faculty members and undergraduate students.
The speaker was Dr. Shahed Hassan, Professor and former Chairperson of the Department of Anthropology of the University of Dhaka in Bangladesh. He conducted research and consultant work on areas of development, which were focused on indigenous and traditional knowledge, indigenous disaster management, ethnoscience, ethnic minorities and environmental issues and concerns.
Dr. Hassan based his talk on the indigenous disaster management research he conducted in Bangladesh, Japan and the USA. In the talk, he first defined the concept of 'Indigenous Management' as how people manage their own problems (relating to calamity) without immediate outside help. According to Dr. Hassan, indigenous disaster management is composed of three main aspects – pre-disaster (perception and prediction), during disaster (self-protection, saving self and one's immediate family members) and post-disaster (before outside help comes, community and group cohesiveness) managements.
He identified the locals' perceptions and predictions, their observations on changes in environment and animal behavior; their immediate strategies; the problems they encountered; the solutions done, and the relationship of the levels of probability of calamities and the casualty they caused in the said sites. Consolidating the data he collected on the three sites, he presented his categorization of the different indicators for indigenous prediction, namely, biotic and abiotic. These indicators may be considered as superstitious or mysterious, with or without scientific verifications.
After Dr. Hassan's presentation, the floor was opened for questions and reactions from the audience. The discussion from the open forum brought about significant insights, such as how the imposition of a different knowledge system on a community can worsen consequences on people. The continuously developing modern scientific knowledge is commonly replacing indigenous knowledge. However, both systems of knowledge can be helpful for communities. Thus, Dr. Hassan proposed that they should blend. The discussion has also brought about the realization that more comparative and interdisciplinary research on indigenous knowledge systems and disaster management is needed.
The study of indigenous disaster management has great potential for Anthropology, as the discipline can create discourse on knowledge systems revolving around disaster management. This can make significant contributions towards the nation's welfare.